October 27 - 29, 2006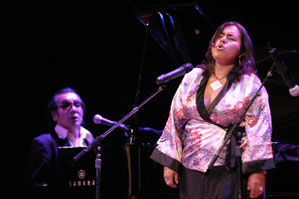 A charming and whimsical cabaret in English, French, and Cree for all audiences.
Featuring the incredible Tomson Highway on piano, the incomparable mezzo soprano Patricia Cano, and saxophonist extraordinaire Uli Kempendorff from Berlin.
This cabaret will feature selections from The Incredible Adventures of Mary Jane Mosquito and selections from Highway´s musical, Rose, part of his "Rez" cycle.
Gibsone Jessop Gallery
Distillery District, Bldg 4 - 55 Mill Street
Toronto, Ontario
October 27-29 at 8:00pm
Native Canadian Centre
16 Spadina Road
Toronto, Ontario
October 29 at 2:00pm